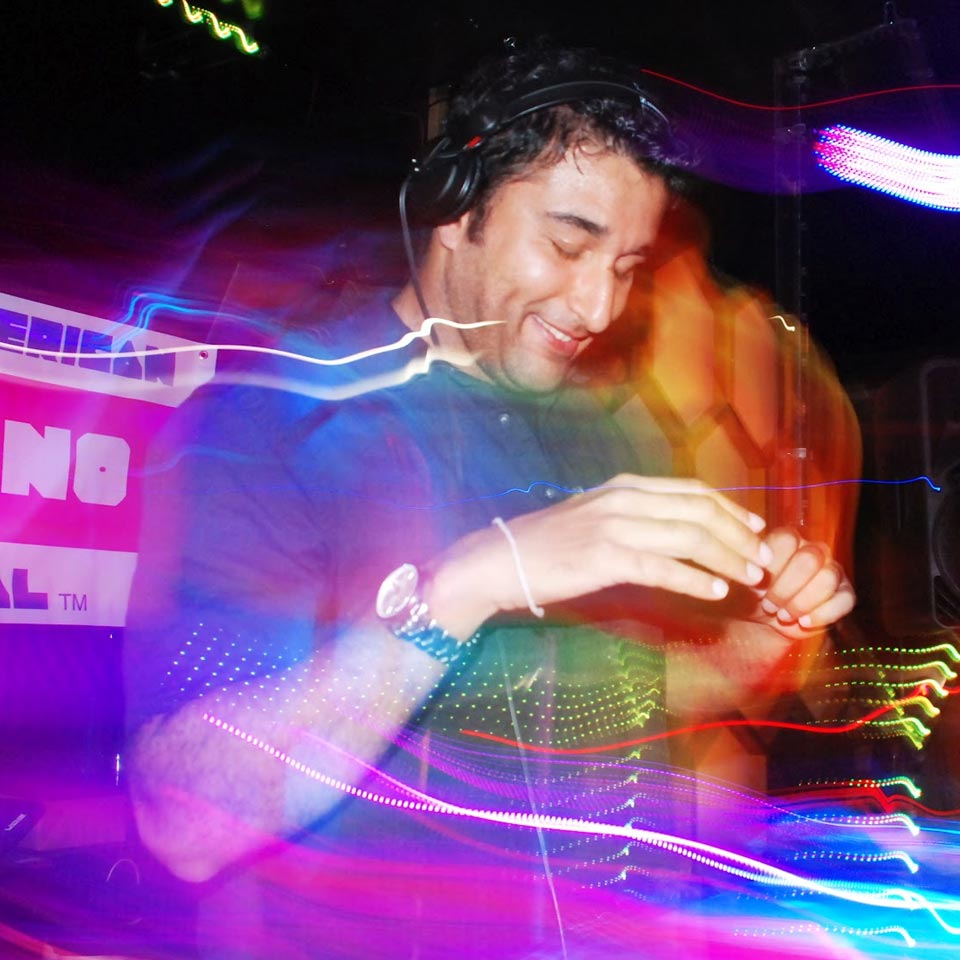 UMS EPISODE 79 Deepak Sharma (Hidden Recordings)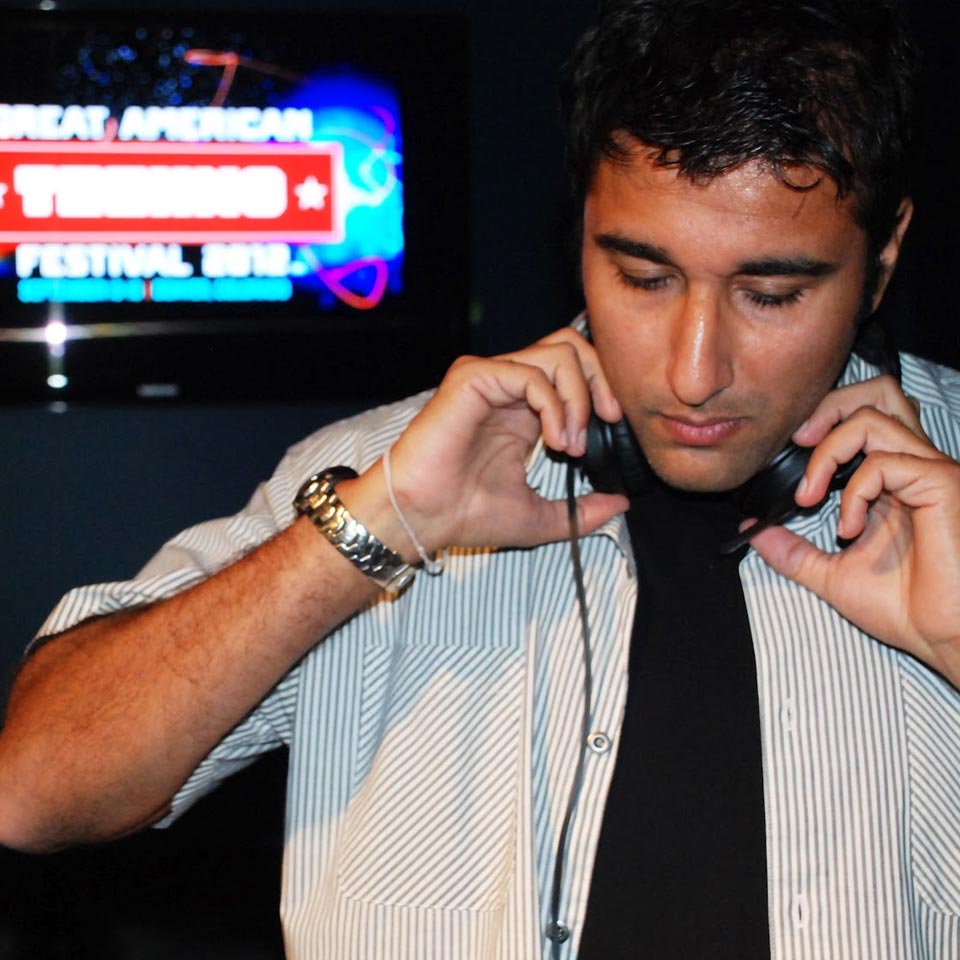 Deepak Sharma
We return this week with great set from another NYC treasure, Mr. Deepak Sharma! Deepak owns and runs one of NY's famous Hidden Recordings record label which is known worldwide and gets supported by many great DJs and Producers like Adam Beyer, Perc, Marc Broome and many others. Deepak delivers a great set here recorded on the roof of the Z Hotel and will definetly have you moving to the power driving techno sounds. Enjoy this set and look further through the ElectronicRhythm Live Player to catch his full set.
UMS EPISODE 79 Deepak Sharma (Hidden Recordings)
Download Hi-Rez Video : UMSEPISODE79DeepakSharmahd.mp4.zip
Mp3 DOWNLOAD:UMS EPISODE 79 Deepak Sharma (Hidden Recordings) FULL SET
[mp3-jplayer tracks="
https://www.electronicrhythm.com/audio/ums_mp3/Deepak Sharma_Episode 79.mp3,
" width="600px" height="77px" pn="n" mods="y" vol="45″ pos="rel-R" list="n"]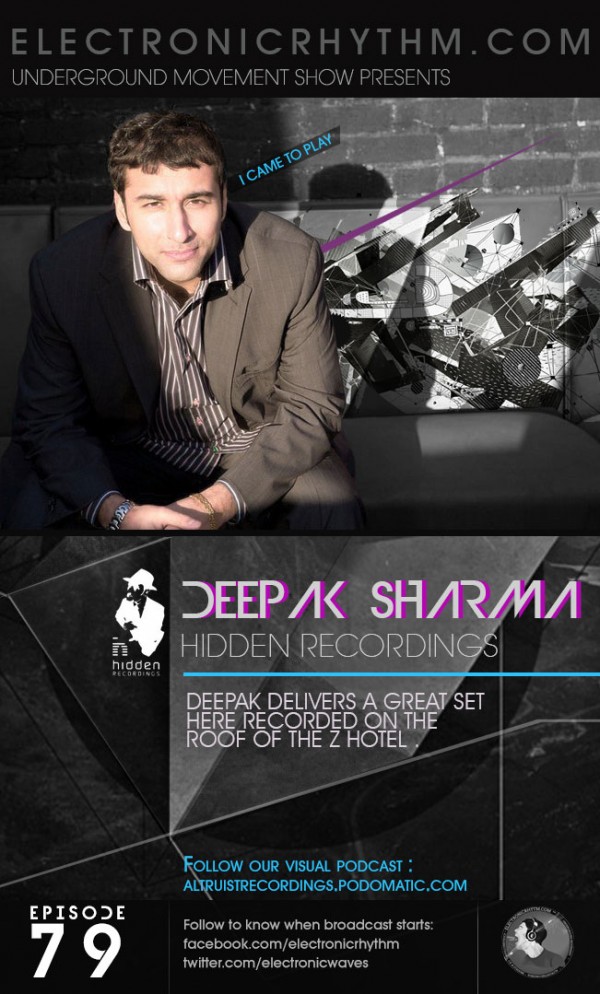 Bio:
In the transient world of dance music where DJs come and go, few have the will, patience and devotion to stay relevant in the ever changing landscape of 'the scene'. Deepak Sharma has carved his own path, and with passion and focus has been able to keep his finger on the pulse as techno continues to evolve.
Born in New Delhi, India, but raised State-side, Deepak recalls the early days of his childhood watching and listening to his mother strum the sitar for hours on end. Unbeknownst to him, that sound would have an influence later in life. Deepak found himself gravitating towards a wide range of music from jam bands to hip-hop where strong lyrics and the beat would evoke an impulsive emotion. Throughout all of this was his mantra that music should elicit a response, but still needs to be fun.
Fast forward to today, you have one of the most consistent players in techno, from releasing a mix compilation in 2004 that De:Bug Magazine called one of the best mix comps they've heard in ages, to traveling globally to DJ, starting his own label Hidden Recordings while collaborating with Germany's Dieter Krause. Over the past four years, Hidden Recordings has gone from a small digital dream, to a budding international label beloved by thousands throughout the globe. Growing from the duo to releasing artists hailing from Europe, North and South America both vinyl and digitally, further distinguishing Hidden Recordings from the rest.
The buzz stirred up by Deepak and Hidden Recordings in 2010 is palpable. Already featured in Time Out NY, Ibiza Voice, Sweatlodge Radio in Berlin and Carl Cox' Global Radio Show, the upcoming releases have been supported by the world's most respected and beloved DJs such as Richie Hawtin, Magda, Speedy J, Paco Osuna, Troy Pierce, Cari Lekebusch, Drumcell, Tim Xavier, Stephan Bodzin, Tim Xavier, and Alland Byallo. The feedback speaks for itself, but so does the involvement of 2010 remixers who are some of the most in-demand and beloved names in techno such as Tony Rohr, Adultnapper, Pheek, and Noah Pred who all leant a hand to the 10th and 11th releases. And there is no slowing down with the 12th release in progress now focusing on the label heads, Deepak and Dieter but complete with remixes from the likes of Argenis Brito, Ambivalent, Franklin De Costa, Andrea Ferlin, Alland Byallo, Andrew Grant and DJ Seoul. Quite simply, the summer's releases from Hidden Recordings will be some of the biggest to hit techno this year.
SOCIAL CONNECTIONS:
facebook.com/djdeepaksharma
residentadvisor.net/profile/deepaksharma
soundcloud.com/hidden-recordings
hidden-recordings.com
myspace.com/deepaksharma
myspace.com/hiddenrecordings
For Booking Inquiries: bookings@hidden-recordings.com
Hidden Recordings Soundcloud Page: // soundcloud.com/hidden-recordings
Hidden Recordings Vinyl: // www.juno.co.uk
Hidden Recordings Digital: // https:beatport.com
sign up for newsletter:
info@hidden-recordings.com