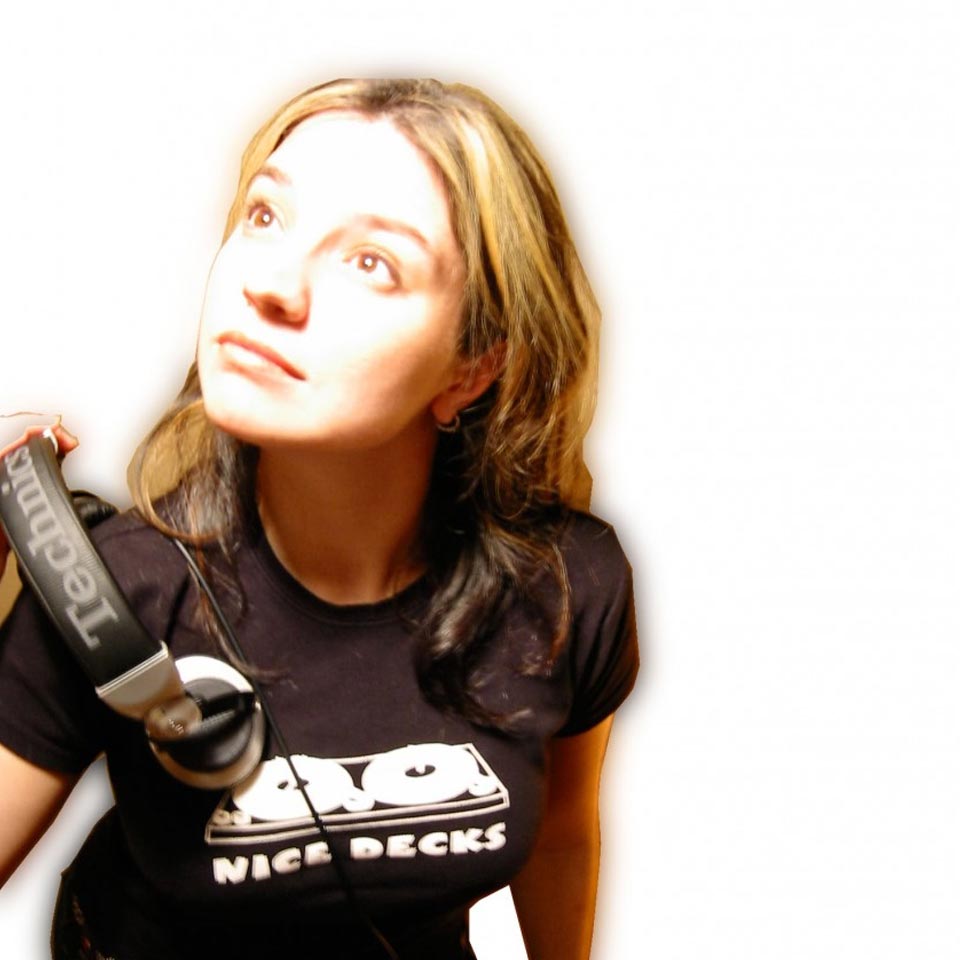 UMS EPISODE 78 DJ BECKA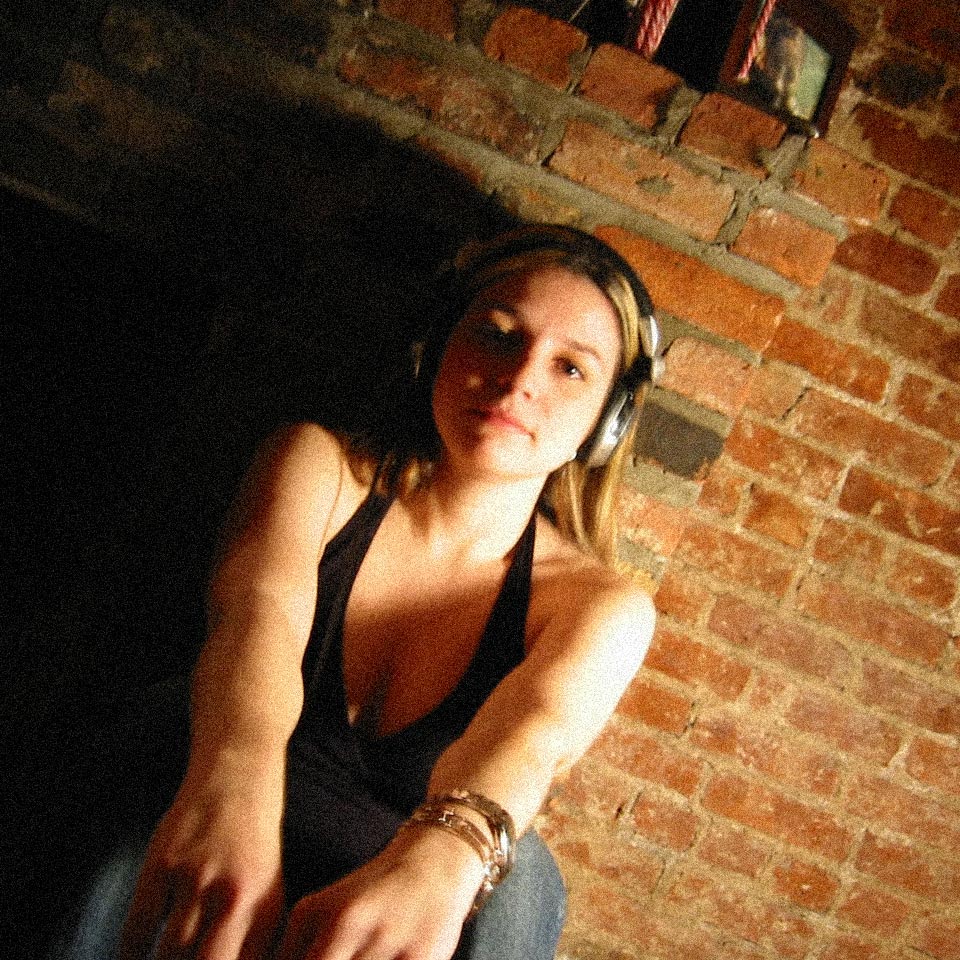 DJ BECKA
Welcome to the Underground Movement Show! This week, we bring you a live mix recording of DJ Becka while she dished out the grooves at NYC's National Underground. We were able to catch up with DJ Becka for a one-on-one interview with the skilled DJ herself and ER's resident Diggy. Learn more about her and her music as we go on a ride through these great beats and interesting pre-set interview.
UMS EPISODE 78 DJ BECKA
Mp3 DOWNLOAD:UMS EPISODE 78 DJ BECKA
[mp3-jplayer tracks="
https://www.electronicrhythm.com/audio/ums_mp3/umsepisode78beckaaudio.mp3,
" width="600px" height="77px" pn="n" mods="y" vol="45″ pos="rel-R" list="n"]
DOWNLOAD VIDEO: umsepisode78djbecka.mp4.zip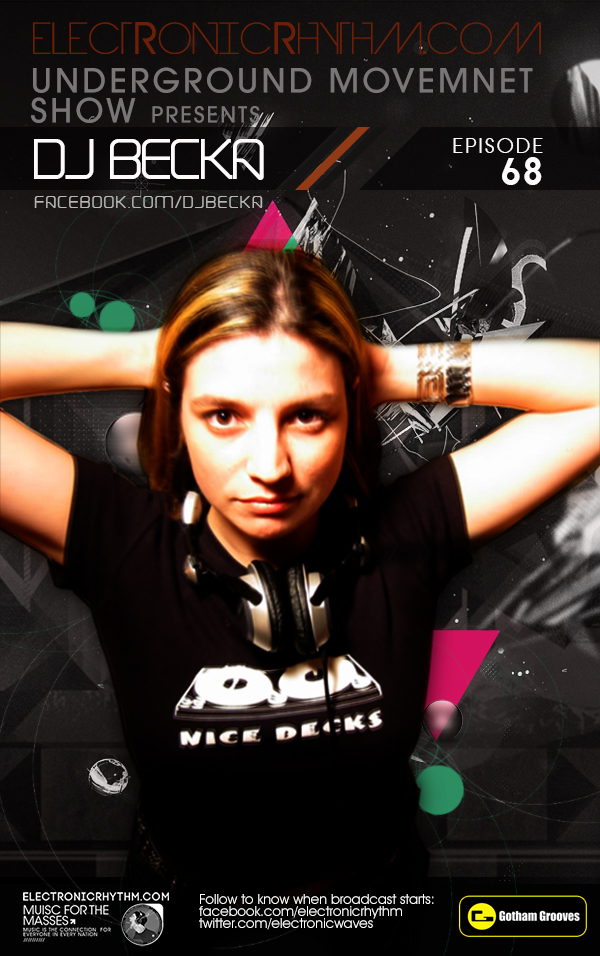 Bio:
Ranked as one of the Top 100 Female DJ's in the world in the Shejay Top 100 Female DJ's poll, Becka has been exposing her eclectic style to the masses for more than a decade. She has played at events across the US, Europe and South America, alongside artists like Adam Beyer, Sleeper Thief, Miss Yetti, Adam X, Agent Orange, and Funk D'void, just to name a few. Her unique blend of electronic music styles has left those witnessing her sets comparing her sound to the likes of German techno dj/producer Chris Liebing.
A few of the important places where Becka has played are: Fuse (Brussels, Belgium), Metropolis (Paris, France), Montuno Vibes (Ghent, Belgium), DEMF (Gotham Grooves) (Detroit), Tronic Treatment (NYC), Limelight (NYC), the I Love Techno 1st Anniversary party in Caracas, Venezuela, Pacha (NYC), Zoo Project in Ibiza, and many others.
Her determination and ambition led her to the creation of Gotham City Radio. Airing on Livesets.com, the show featured Becka, along with some of the hottest international and local artists. Artists she played host to included Joris Voorn, Bryan Zentz, The Horrorist, along with countless others. With a recent relaunch of the show, you can now catch her on the air on Livesets, and now also on Digitally Imported Radio. In addition to this, Becka's exclusive sets have been aired on various other net radio stations, most recently Vonyc.com, the new station owned and operated by the world famous Paul Van Dyk.
Inspired by her partner, ARA, Becka began co-producing tracks with him, as well as working on solo projects. Their first release together is featured on Gotham Grooves 009-Orange Slices EP. Their second release, a remix of the track Lifestyle by Magnifica, was played by DJ's such as Eric Morillo and Sander Kleinenberg. After several releases and motivated by her love of the studio, in 2006 Becka launched her own label, Gotham City Recordings. The label features releases by artists including Agaric and Marko Nastic along with her own productions. GCR has already been experiencing the success that takes many labels years to achieve, seeing the first two releases charted by some of the biggest players in the industry – Dave Clarke and Marko Nastic. She continues pushing the GCR brand, but also the ARA & Becka sound, releasing on labels such as Teggno Records, Lift'in, and their most recent achievement, Paul Van Dyk's Vandit.
As a result of the growing demand in Europe, Becka relocated to Spain with partner ARA in the summer of 2006. It was there, that she continued with her studio projects and now performs her live show "ARA & Becka" while continuing to DJ around the world.
Becka grew up in Philadelphia, where she discovered her love of electronic music. From a young age she began singing and playing various instruments including the viola and the piano. During the late 80's she began collecting vinyl from artists such as Little Louis and Inner City, but little did she know what an impact those artists would have on her and the world in the years to come. Her love for dance music became apparent as she made regular appearances on the television show "Dance Party USA." Here she was surrounded by the sounds of commercial dance music, as well as the early sounds of Acid House and Detroit Techno. It wasn't until the early 90's rave explosion in Philly that she sought DJ'ing as a career.
In addition to being an outright vinyl junkie, Becka can play a range of styles letting loose a turbulent assault on the senses. This lady DJ has been gaining loads of respect & notoriety in the US as well as internationally. Keep an eye on her and be a witness to this rising talent, traveling at the speed of sound!
Social Connections:
http://www.djbecka.com
facebook.com/djbecka
hsoundcloud.com/becka
hmixcloud.com/becka
facebook.com/beckadj