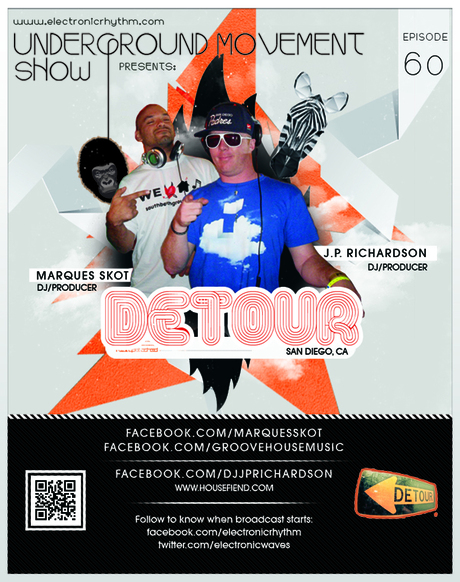 UMS EPISODE 60 MARQUES SKOT / JP RICHARDSON ( DETOUR )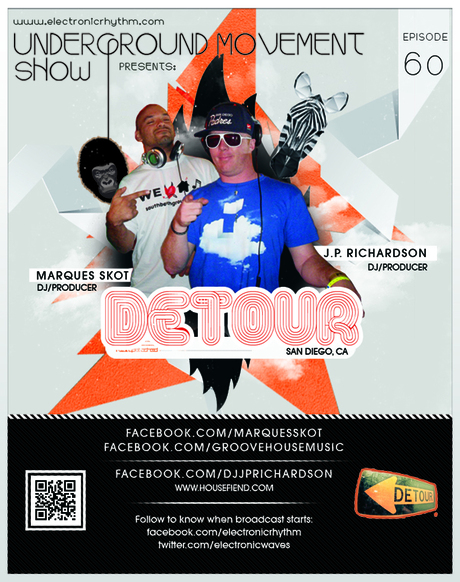 This week we welcome our new collaborators to the Underground Movement Show, JP Richardson and Marques Skot of the Detour Crew. Based in San Diego, California, they will be showcasing quality music regularly so look for these live shows on our site which can be viewed on any web-enabled device.
SOCIAL CONNECTION TO MARQUES SKOT AND JP RICHARDSON:
facebook.com/marquesskot
soundcloud.com/marques-skot
facebook.com/groovehousemusic

www.HouseFiend.com
facebook.com/DJJPRichardson
soundcloud.com/jp-richardson
UMS EPISODE 60 MARQUES SKOT / JP RICHARDSON

DOWNLOAD HIGH RESOLUTION VIDEO: {filelink=78}
VIEW IN BROWSER: UMS_EPISODE_60_DETOUR.mp4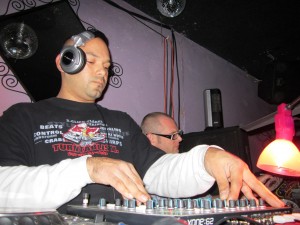 BIO: Marques Skot
Marques Skot is a musical practitioner. His whole life the sound of instruments and sounds in general have held him captive since the age of 6 years when he learned to play the guitar. 2 years later he could play the bass, 4 years later he was to become a proficient percussionist, and 6 years later he would learn to play keyboard. He spent his early years on 4tracks and 8tracks live recording and composition. Soon after he picked up the art of the DJ and spent many years training his ear to the underground House movement of the early days. In Los Angeles, where he was born and raised, there were no short supply of events, sounds, and ideas. Since then he has grabbed onto his label Groovehouse Recordings and has focused major attention to producing feel good House music. House music flows through the network of our combined spirits; the more we are in tune with it, the more we allow it to take over us. Now in Sunny San Diego he pushes his talent forward creating ever more songs unique to him and ever more distinguishable to him. An "Architect of Sound". Currently, you can catch Marques Skot and guests on bi-weekly broadcasts – Saturdays 6pm – 8pm PST on WWW.MYHOUSEYOURHOUSE.NET, where the goal of the broadcast is to have House producers play current musical scores that are not out yet and the show can serve as testing grounds for the new tune. No better way to critique it than live on the air. If you went to WMC 2012 you would have caught him at D'vine for the 17 hour MHYH party and the 12 Hour Detour SD Party at the I love Music Hotel (Catalina Hotel). He's pushing forward to release upcoming tracks on different labels and picking up more playtime in places like S.F. Currently a resident at Raven (Soma District, SF) – he is laying down the ground work to connect his label to listeners and fans everywhere. Every year has been a growing year and shows no signs of slowing down. His continued effort to release good quality House music doesn't fall by the way side, and if you keep tracking him, it won't be long before you bop your head to Marques Skot tunes on a more routine basis.
MYHOUSEYOURHOUSE : Internet Radio, Global Events Network, Record Label and Community
www.myhouseyourhouse.net
Underground House and Eclectic live internet radio community, events network, record label, news and proper music for the soul since 2005.
SOCIAL CONNECTION MARQUES SKOT:
facebook.com/marquesskot
soundcloud.com/marques-skot
facebook.com/groovehousemusic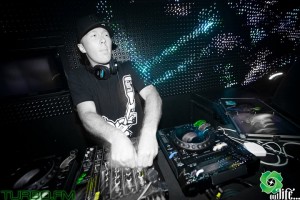 BIO:JP RICHARDSON
Born and raised in San Diego, California, J.P. Richardson is considered a 'jack of all trades' in the House Music community. He began his journey as a fan in the 90's and although predominately influenced by the Funk, Soul, Jazz, Classical, 80's, R&B, Disco and Hip Hop movements; J.P. found House Music made it possible to incorporate the best of these genres into one.
Shortly after falling in love with the music, J.P. mixed his first record as a studious teen. Without a mentor, and not knowing where to get house records at the time, he began his collection by going to thrift stores and garage sales to find used vinyl records of many genres.
After years of critiquing the greatest House mixers in history, and honing his own skills, J.P. acquired his first club gig in 2004 at the Aubergine (now known as Fluxx), in San Diego's Downtown Gaslamp Quarter. Since then he's mixed recordings at venues where some of the finest DJ's in the world have been showcased. Some include Voyeur, WMC, Spin, Onyx, Thin, Red Circle, Sin, Stage, Red C, Candelas, Kava, Air Conditioned, Prospect, Bar Dynamite, and more.
www.HouseFiend.com
facebook.com/DJJPRichardson
soundcloud.com/jp-richardson