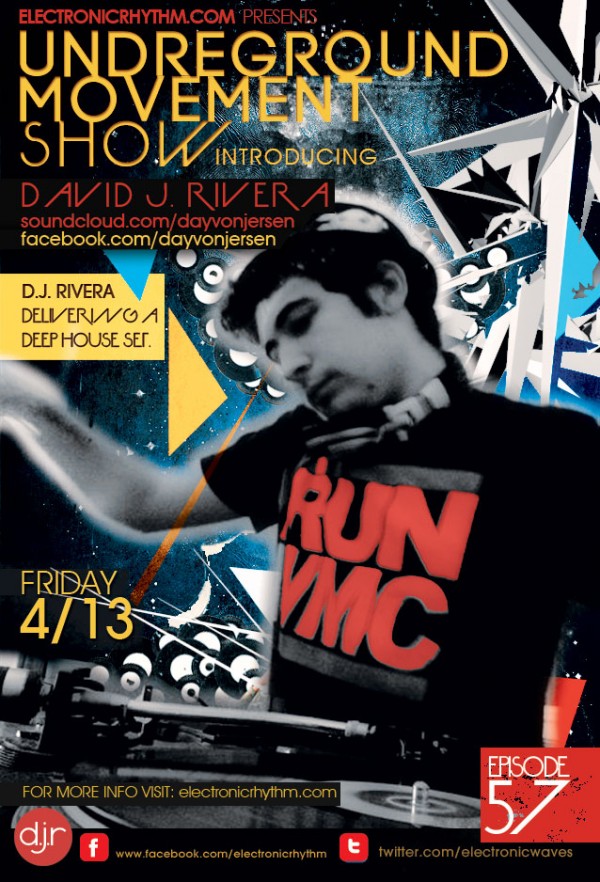 UMS Episode 57 David J. Rivera
David Rivera
We come across this episode of the Underground Movement Show to bring you the debut into the underground scene of Mr. David J Rivera.
This gentleman who we have seen all over New York City venues and parties while helping individuals in our electronica music scene.
When we spoke to David, we asked him what kind of production is more his style and like many he didn't really stick to one type.
He did mention loads of artists which we at the UMS love and listen to so we asked David for an all vinyl mix.
We liked what we heard and wanted to give him his first published set on the show.
So we are hoping this mix will help the viewers look deeper into David Rivera and his multi- eclectic style of mixing.
Tune into our next week's show when we welcome Miss Connie Yin from NYC's Resolute Nightlife Company recorded live from her latest event!
www.facebook.com/dayvonjersen
soundcloud.com/dayvonjersen
Make sure to follow the Underground Movement Show via the following links to get up-to-the-minute updates on when we will be broadcasting live from various events and venues worldwide.
facebook.com/electronicrhythm
twitter.com/electronicwaves
electronicrhythm.com/live
UM SHOW EPISODE 57 DJ Rivera

Download: {filelink=75}
View in Browser:umsepidodedjrivera.mp4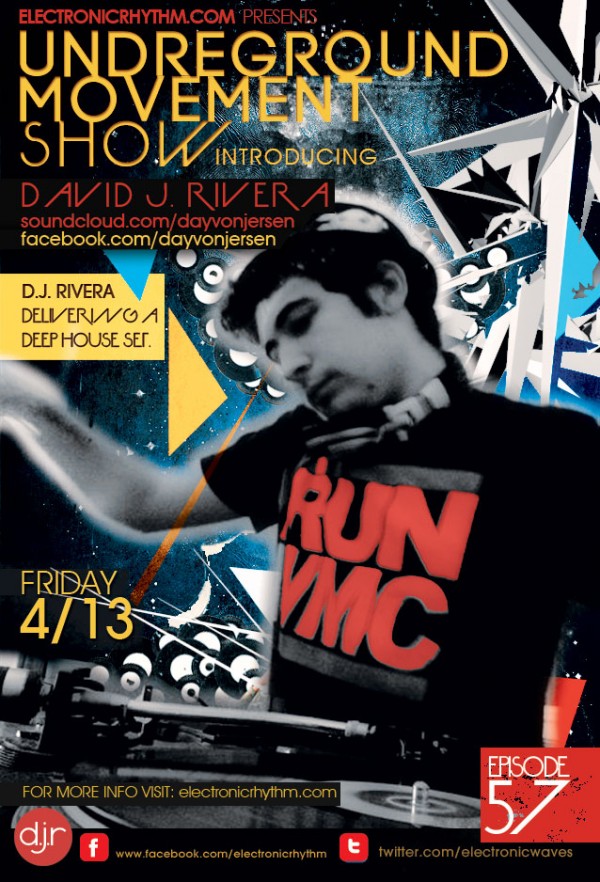 TRACKLIST:
Audion – I Am The Car (Spectral Sound)
Dubfire – RibCage (Desolat)
Robag Wruhme vs. Jay Haze – Change is Natural (Contexterrior)
Id1ots – In the Gold Room [DJ Koze Dub] (LoEB)
Lonely C & Baby Prince – Be Yourself (Wolf+Lamb)
Willie Graff & Tuccillo – Rucula (Circus Company)
Luciano & Guy Gerber – Arcenciel (Cadenza)
Abe Duque – Trying to Stay Underground (Abe Duque Records)
Loco Dice – Flight LB7475 (Ovum Recordings)
Almost Human & John Tejada – From Here to There (Twisted Funk)
M.A.N.D.Y. – 4+1 (Sis Edit) (Get Physical Music)
Unknown – Unknown (White Label)
L'usine – Everything Under the Sun [Lawrence Remix] (Ghost International)