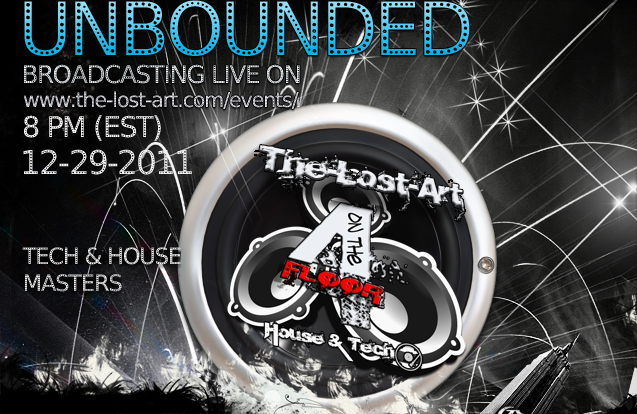 TLA FOUR ON THE FLOOR N.Y.C PARTY
UNBOUNDED: TLA FOUR ON THE FLOOR N.Y.C PARTY.
THE -LOST-ART.COM TECH HOUSE CREW THROWING DOWN SOME DOPE BEATS IN THE CITY THAT NEVER SLEEPS….
Secret Invite Only Location – For address to be given out on day of event, Important RSVP for the event- E-mail here .info@electronicrhythm.com


Full Bar and Bottle Service Reservation Recommended.
Capacity is limited. First RSVPs will get priority.
This event will be broadcasted exclusively on The-Lost-Art Live Events Channel.
From 8 PM (EST) till ?
MAKE SURE TO RSVP
Important RSVP
altruistrecordings@gmail.com
g-ron@electronicrhythm.com
soulstar@electronicrhythm.com
FUNK40K is made up of DJ's Griz & Honey. They began their music careers separately, met in 2001 and got married in 2007. They are both from the New York City suburbs.
Griz has been collecting vinyl and spinning house music since 1994 – he has played events ranging from college house parties, packed nightclubs and international music festivals. He was known as DJ T-All for most of his career and performed alongside Brooklyn's Mr. Danomyte as the Avenging Disko Godfatherz all over the east coast.

G-Ron (aka George Ron) is a dj/producer/remixer bound to music made with machines. Following the NYC underground dance community since the age of 8…its where I call home.
Being raised in New York has led this DJ to experience the dance party culture at many distinct levels. Presented with his first record at 8 (a gift from his siblings for his birthday) G-Ron started his collection of rhythm and sounds. At the age of 9, he began visiting underground Brooklyn jams with school friends. With his focus directed towards the evening's musical presenter, he started appreciating how the DJ would build a crowd into a frenzy then finish the ride gently and blissfully.
DJ Diggy, one-half of Dioscuri! delivers the dark and pumpin beats this week on the UM Show! Coming over straight from the airport, gives you an idea of how much he loves the Electronic Dance Music scene. Playing in New York for years, he enchants people with the sounds of mesmerizing tones and effects. The driving basslines flowing in the mix, makes one want to let go of their chair and get on moving.
The mind behind Housetribe Records. Gino Patrick Cordova ((Conquest)), Lets take you on a flash-back . In a dark warehouse in the late 90s Denver(TheSweatBox). Its 4 am sweat is dripping from the ceiling , the freaking Vibe is like Boom!!! the Hippyflip is in FXt I'm lost and the only way back is MOTHERFREAKING Lazer Show! 2012 been a long time in this Dj culture owner and CEO of Housetribe recs and you know now days just writing tracks and still have my fingers on that vinyl .
I am a Brooklyn born and Queens raised military trained and self taught Turntablist called DJ NSEW. I am an 11 year Marine War Veteran and ever since I was a very young man I've had a love for music, from the beats to the rhythms, from where it touches your soul and you can bring it to a dance floor.
Mr. Danomyte
Dan Gould, Brooklyn, United States
AND YOURS TRULY:
DJ-SOULSTAR AKA SOUL_DAS … Has been in the underground music scene since the better part of the 90's .. As a teen he traveled around with a crewcalled Legion2000 and was exposed to the rave scene and the growing popularity of tech house ,break beat, Jungle and what have you.. Going from rave to rave and outlaw parties his mind was filled with so much rich sounds that makes him the versatile sound sculptor he is today.. At this point he began honing his skills. A New York Club Kid found his home in all things boom!.