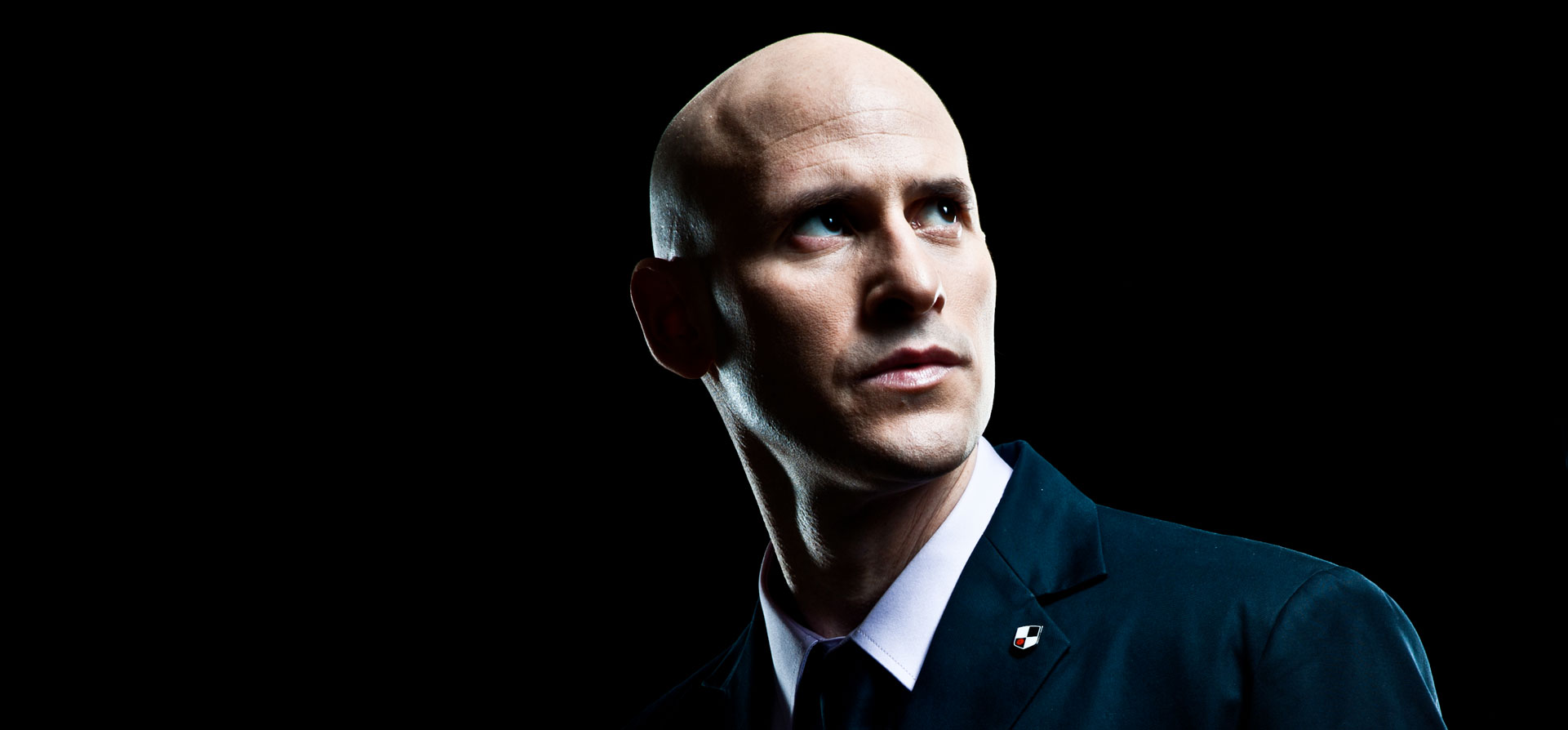 Gel Abril – UMS : 105 – Sullivan Room Series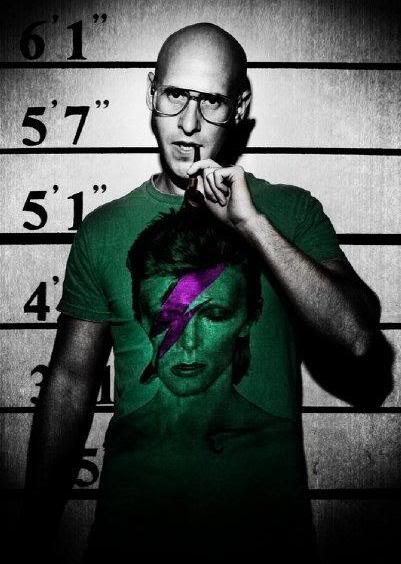 When Gel Abril come a knockin'….the entire city be a rockin'. We found ourselves in NYC recently with Mr. Abril, joining the Israeli artist as he rolled into the Big Apple on one of its most renowned dance floors, Sullivan Room. Mr. Abril gave an enthralled crowd a signature set with his blend of high-energy platters. Check out his full set along with PJay, MeanDisco and suprise artist >>> Shlomi Aber…plus more on ElectronicRhythm.com
Gel Abril UMS 105 Sullivan Room Series from ElectronicRhythm.com on Vimeo.
Download Gel Abril – UMS 105 High – Resoluion Video Podcast (669 mb)
More about Gel Abril:
Talking about the new age of techno, Gel Abril a.k.a Roy Brizman has been undoubtedly one of the most present names on the underground movement's lips. Debuting with remixes for Shlomi Aber on labels such as "Ovum" (Freakside) and "Renaissance" (Moods), Gel started building his own profile with original material for his home based label, the Be As One Imprint.
Thanks to the success of releases such as "Sparta" – with his fellow rising star from Tel Aviv, Itamar Sagi – and above all his first hit "Very Wrong", Gel soon got into the techno rumble, as testified by the huge support given to his tracks by a worldwide group of top crossover DJ's.
In a short period of time, major labels started to keep their eyes on Gel's unique profile and music approach, as testified by Ovum's label boss Josh Wink, who soon signed "The Underground Bullshit" EP. The record instantly hit as a top 10 seller and found its way in every major player's records case, with names such as Ricardo Villalobos, Laurent Garnier, Shlomi Aber, Luciano, Wink and many others. It was the German-based label Get Physical that then took Gel soaring to higher grounds ,with the "Miranda" EP.
From the very start of his promising career, Gel has been established as one of the most influential DJ's and producers of recent times, with release upon release becoming an industry trademark. One of his first footprints, "Your Face Is A Mess" on Be As One, has become one of the past winter's biggest anthem. Pushing forward with this wave of success, Gel released an even bigger follow up, the dance floor stormer "Spells of Yoruba / Marir" EP, which once again came out under Shlomi Aber's Be As One Imprint.
Recently, Gel remixed Dennis Ferrer's track "Sinfonia Della Notte" on Strictly Rhythm, and Spells of Yoruba has found a release on the mighty Defected label, featured as a single alongside new remixes on top. And te remix Gel did for Slam's "Variance" on Paragraph has been getting massive support from all the top key players in the scene. Meanwhile, Danny Tenaglia, Steve Lawler, Dennis Ferrer, Agoria and Valentino Kanzyani among others, have all knocked on Gel's door to get his tracks licensed for compilations. As Part of the Be As One label showcase, and as one of the imprint's main artists, Gel has been trotting from the east to west sides of the globe, keeping the musical quality high and the underground musical tradition alive.
Gel Abril Home: http://www.gelabril.com
Facebook: http://www.facebook.com/gelabril
SoundCloud: http://soundcloud.com/gelabril
Full Video Sets
Artists in order of apperance:
PJay – Birthday Set
Meandisco
Gel Abril
Shlomi Aber
Gel Abril at System
Giovani at System
[pro-player playlist="bottom" type="mp4″ image='https://www.electronicrhythm.com/wp-content/uploads/2013/02/gelabril2.jpg']https://www.electronicrhythm.com/videos/shlomi_aber_sullivan_room_031613.0.flv,http://www.mixtubedj.com/streams/ElectronicRhythm_20130203020244.flv,http://www.mixtubedj.com/streams/ElectronicRhythm_20130203010251.flv,[/pro-player] [mp3-jplayer tracks="https://www.electronicrhythm.com/audio/ums_mp3/PJay_MeanDisco_Gel-Abril-Shlomi-Aber.mp3,https://www.electronicrhythm.com/audio/ums_mp3/PJAY_Sullivan_Room_031613.mp3,https://www.electronicrhythm.com/audio/ums_mp3/Meandisco_Sullivan_Room_031613.mp3,https://www.electronicrhythm.com/audio/ums_mp3/Gel_Abril_Sullivan_Room_031613.mp3,https://www.electronicrhythm.com/audio/ums_mp3/Shlomi_Aber_Sullivan_Room_031613.mp3,http://www.mixtubedj.com/streams/ElectronicRhythm_20130203020244.mp3,http://www.mixtubedj.com/streams/ElectronicRhythm_20130203010251.mp3″ width="600px" height="77px" pn="n" mods="y" vol="45″ pos="rel-R" list="y"]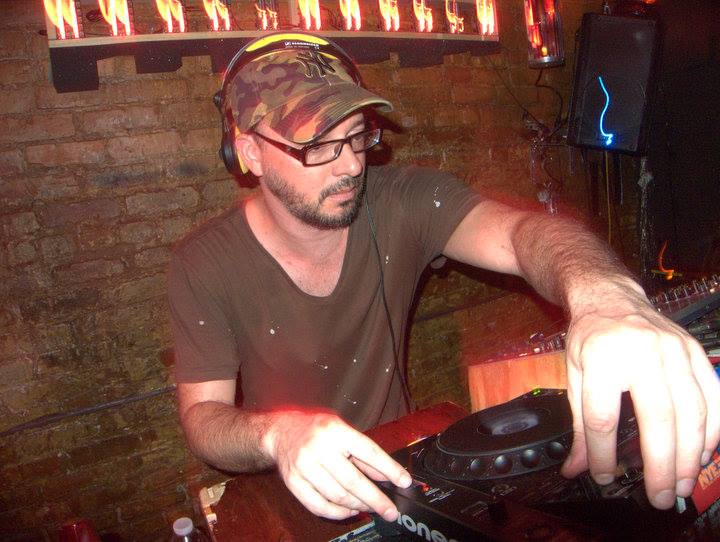 PJay
Celebrating his birthday, NYC's PJay throws down a perfect blend of Techno grooves for a great warm-up beginning to the evening. Veteran to the scene and organizer of legendary NYC "Tronic Treatment" events, PJay has been involved with many past, present and (we expect) future collaborations within the local community and beyond. In this set, he weaves through various techno genres and eras to a great energetic crowd.
PJay – Facebook : https://www.facebook.com/pjay.pultorak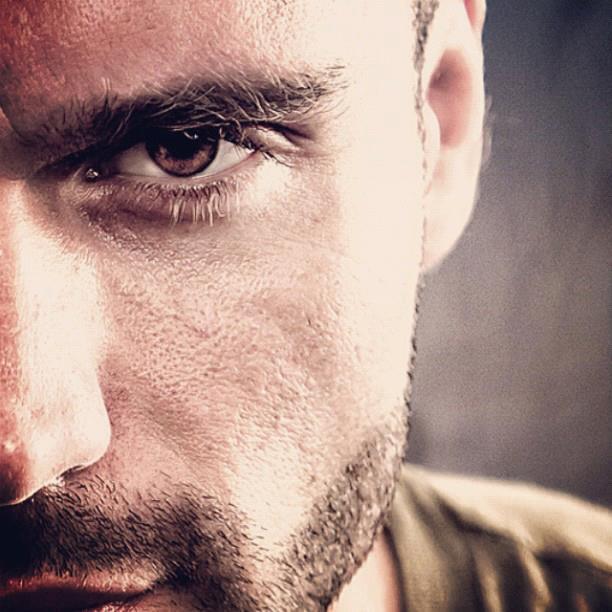 Meandisco
…After coming back from doing events in Denmark, Latvia and Croatia, Meandisco re-joined together with SR SERGE to re-invent Sullivan Room – NY's longest running underground dance club, into a multi platform talent outlet; Sullivan Room Records and re-launch their event brand PROPAGANDA! With over 50 successful events already, he keeps the floors hot with a variety of artists such as; Pig & Dan, Shlomi Aber, Yousef, Santé, Maher Daniel, Mikael Stavostrand, Silky, Djuma Soundsystem…
…In addition to taking Sullivan Room brand to Sao Paulo, Brazil, he brings exceptional talent weekly, keeps a busy tour schedule and upcoming releases; the Sullivan Room Vol 3 Compilation, remixes and productions… Gene also runs a weekly party THE LOOP exposing new local and featuring artists like; Marco Bailey, Stephan Bodzin, John Tejada, Oliver Lieb, Andhim, Figueroa…
Meandisco Home: www.meandisco.com
Facebook: www.facebook.com/NYCLOOP
Mixcloud: www.mixcloud.com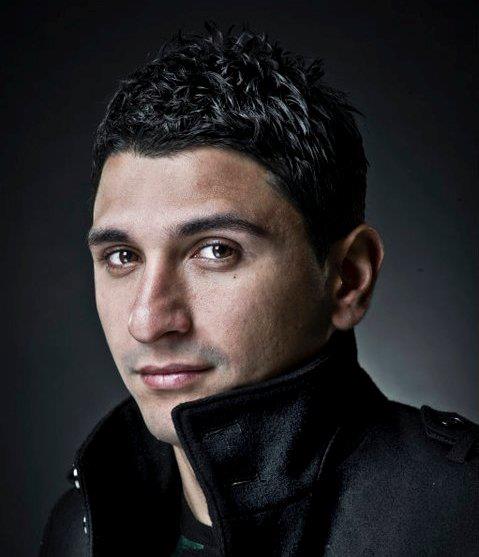 Shlomi Aber
Recognized as one of the main techno pioneers and influential artists of the recent time, Shlomi has the kind of impact usually reserved for inbound meteors, the reason for which is buried in a ground swell of genre-defying appreciation and support. A comment taken from a "Radio 1" interview provides a probable insight as to why his productions are hitting such a broad mark: "No matter if it's hard or soft, it just needs to touch your mind, body and soul at the same time. That's what I call a 'Good Record". This personal approach, married with 15 years of production experience, takes influence from jazz, funk, minimal, acid, and in particular the old school Detroit techno movement.
Aber has created some of the most recognizable and unique techno anthems of the modern times for the world's most prestigious labels on his ever-expanding CV: Cocoon, Desolat, Cadenza, Ovum, R&S, Objectivity, Renaissance and his own "Be As One Imprint" one of the most established and leading labels of the underground dance music scene, a firm favorite with the world's elite, with its broad range of quality underground house and techno.
Tracks such as Sea Of Sand, After Love and Tel Aviv Garden have become engraved on Top 10 bestseller lists all over, whilst his release "Sketches " has already been described by every aspects as '…a classy piece of Underground fodder', not to mention his worldwide funky techno anthem on Ovum Recordings, "Freakside," which became his trademark as "the biggest club track of 2007" and one of the most played techno tracks of the recent years.
Shlomi's worldwide success granted some prestigious rewards as "best newcomer" in 2006, "producer and track of the year" in 2007 with "Freakside" "Beatport's artists of the year" in 2008, and also received a respected "Worldwide DJ Awards nomination" to close in recent times. These and more placed Shlomi in the first tier of electronic music artists, headlining every prestigious club, festival or venue worldwide.
"Shlomi's sets are full with warm and unique sounds that makes you feel like you are going back to the better days of music, it was something I can't define just by one word, if I must I will call it something between house and techno. With his fascinating technical skills, accurate programming and music selection, you can just feel the magic in the air." (DJmag profile article)
Website: http://shlomiaber.com
Facebook: https://www.facebook.com/shlomiaberofficial?fref=ts
Twitter: https://twitter.com/Shlomi_aber
Be As One Imprint: http://www.beasoneimprint.com/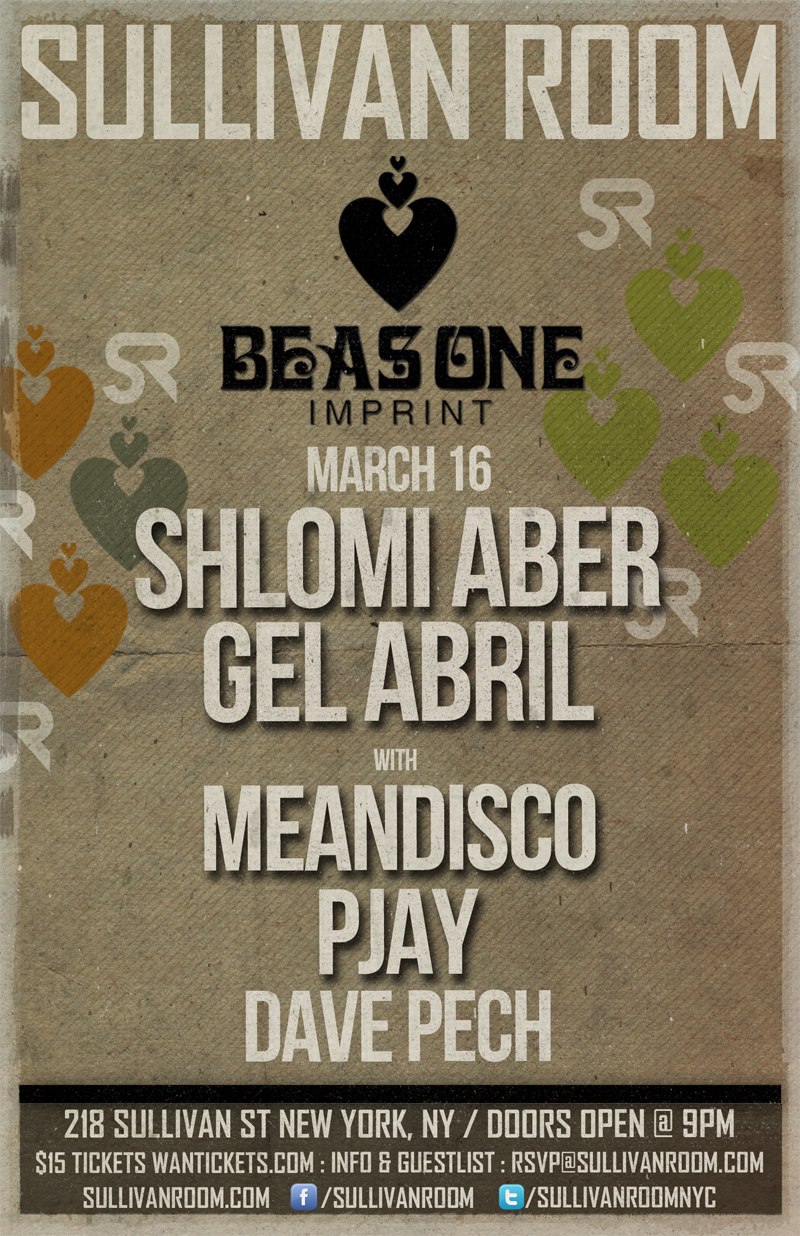 Bonus Sets!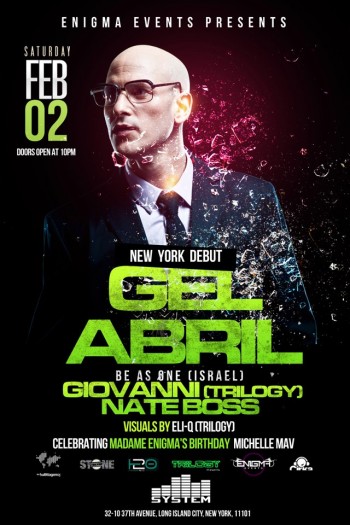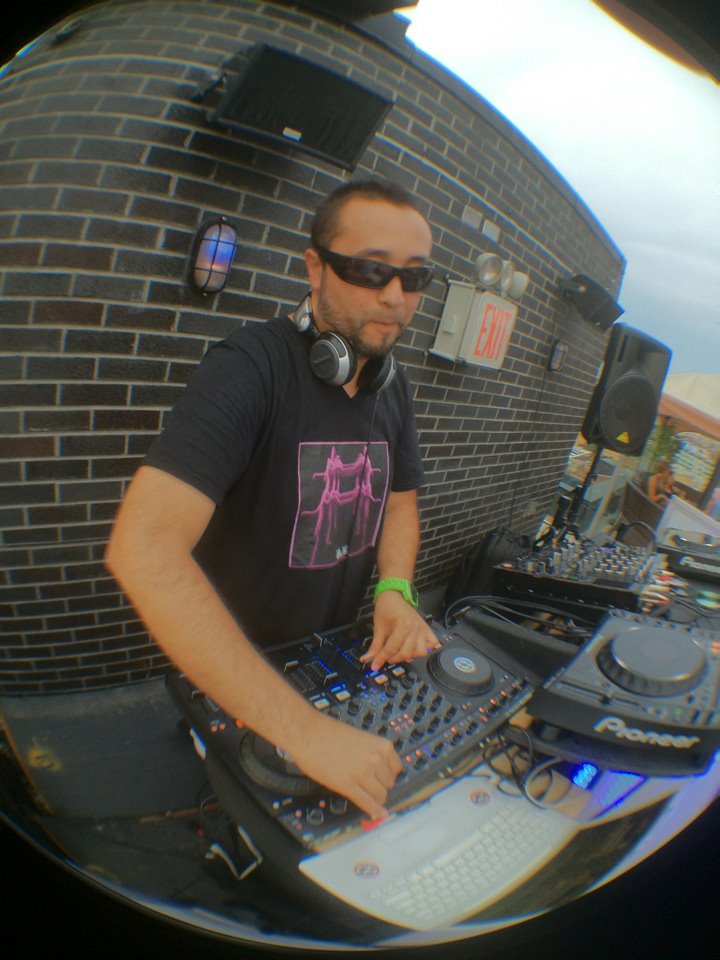 Giovani
Giovani, under the name of Dj Switch, started to Dj in 2000, 3 years later
he had his first residency in a small underground club called "SubRoyal"
in Bogota, Colombia.
He was playing all sorts of music from Techno, Electro, Tech-house to
New-School Breaks.
Then he spinning for some popular clubs in Bogota city like Monitor, Barbarella, Arena, La Sala and 4Rooms ‐ he had a huge success and got the attention of Ultrabass collective whom, in 2004, invited him to play at the Bogotraxx Festival which is a self‐funded independent festival with the objective to spread electronic art and music to the different sectors of Bogotá with free concerts and workshops.
This festival has the participation of Djs from Germany and France where this festival was celebrated simultaneously.
Giovanni's participation in the arts and electronic music festival Bogotrax propelled a European tour later on, 2004 where he spinned in:
Batofar (www.batofar.org),
Glazart (http://www.glazart.com/),
Rexclub (http://www.rexclub.com/),
Le 4 sans (http://www.le4sans.com/),
Le fleche d'or (http://www.flechedor.fr/),
Technoparade 2005 (http://www.technoparade.fr/)
Le Placard Headphones Festival 2005 (http://www.leplacard.org/)
and different private parties until the end of the 2005's summer.
In 2006 Giovanni moves to New York where he has played ever since his arrival ratifying his sometimes‐quirky, somewhat‐spacey always‐banging style of mixing, earning respect among the industry members and fans.
In the big apple Giovani had a residency in Bar 13 www.bar13.com, and co-founded of Biatch Corp collective that, in july 2007, started as techno parties and in 2008 was established also as a recording label.
Year 2010, Giovani, founded TRILOGY NYC his own label events with a big success. Booking and focused in Techno Djs like "The Advent", Tom Hades, Sasha Carassi, Cari Lekebusch, Sian, Monoloc, to name a few.
Held in Brooklyn and Manhattan.
Giovanni: "I Like Warehouse Techno Parties"
He has shared the stage with the following artists:
Moby, Stephan Bodzin, Perc, Daso, Dj Chloe, Jussi Pekka, Luca Bacchetti, Swayzak, Danton Eeprom, Deepak Sharma, Santos Resiak, Silicone Soul, Efdmin, Jamie Kid, Thomas Melchoir, My My, Gregor Tresher, Martin Gore (Depeche Mode), Joseph Capriatti, Abe Duque, John Selway, Stewart Walker, Trent Cantrelle, Damian Lazarus, Stimming, Dinky, Jona, Joey Beltran, Misstress Barbara (WMC Miami 2009) , Delete, Three, Shlomi Aber, Pablo Bolivar, Jeff Samuel, Guido Scheider, GummiHz, Tim Green, Lee Curtis, Guti, Brendon Moller, Markus Mehta, Derek Marin, Metope, Benno Bloome, Ambivalent, Insideout, Funkstrorung, Monkey Bros. Peter Corvaia, Connie, Lenny Posso, Dennis Rodgers, Andrew Technique, Chopstick, Ascii Disko, Flavio Diaz, Namito, Pierce, Kyle Geiger, Xpansul, Martinez, Lawrence aka Sten, Karri O, Pfirter, Darko Esser, Someone Else, Cari Lekebusch, Steve Rchmad, Henry Saiz, Marc Marzenit, Jeff Mills, Alex Bau, Markantonio, Pawas, Sian, Monoloc, Dustin Zhan, Sasha Carassi, Tony Rohr, Mathias Schafaulser, Taster Peter, Marko Nastic,Erphun, Lucio Aquilina, Massimo Di Lena, Pig & Dan The Advent, Luigi Madonna, Tom Hades, John Tejada, Italo Boys and, More.
Giovani : https://www.facebook.com/giovani.trilogy
Trilogy NYC: www.trilogynyc.com
Trilogy on ElectronicRhythm:https://www.electronicrhythm.com/trilogy-events/