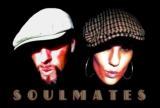 August DJ Discovery: SoulMates (4Peace and Camille)
Matt Pruitt, aka 4peace, is one half of High Maintenance (along with J. Caprice) and one half of SoulMates (with his New Zealand girlfriend Camille). He splits his time as owner of Cabbie Hat Recordings (www.cabbiehatrecordings.com).  He also co-owns Juiced Music (www.juiced-music.com).
Originally from Dallas TX, He has been spinning longer than many of today's club goers have been alive (since 1989!) During that span, he's performed at an uncountable number of events alongside a long and impressive list of House Music royalty. He's won awards (#1 Night Club DJ at the 1997 Fort Worth Weekly Music Awards), been a music reviewer (Feedback, Street Sound, Elevated Beat), promoter (Planet X, Big House, Silent Eclipse), record store manager (Neurovox & Core), and even a record store owner (Tech*Sun Records).
His releases have consistently been charted by House Music's biggest names. They find its way toward the top 100 sales lists. The list of labels he has featured is as
impressive as it is long and includes such imprints as Guesthouse, Panhandle, Greenhouse, Junky Trunk, Liberate, Dustpan, Coyote Cuts, & Whitebeard.
Currently he working as the Jackin' House Genre Manager at Traxsource
(www.traxsource.com), one of the worlds largest and most respected online sites for House and Dance music.
Hailing from the picturesque shores of New Zealand, DJ Camille has been a musician since the age of 4 years old. Having mastered a number of instruments such as Violin, Piano, Harmonica, Bass Guitar and Drums, she moved on to Turntables and has been rocking dancefloors since 2000, not to mention she is also a qualified Audio Engineer. Undeniably this girl has music flowing through her veins!
Her sets are a seamless mix of Deep Jackin House, Tech House and everything in between. She captures the listeners imagination  with irresistably infectious melodies infused with phat, chunky basslines, and slamming percussion. She has supported the likes of Mark Farina, Derrick Carter, Joey Youngman, Jason Hodges, Joshua (Iz), and Inland Knights to name a few, having taken her mixing skills around the world.
In March 2011 she jetted off to Miami for the Winter Music Conference where she met her man 4Peace (of High Maintenance, Juiced Music, Cabbie Hat Recordings) and together they formed the duo "SoulMates". You can catch SoulMates playing live every week with their "BeatBox Sessions" radio show Fridays 9-11pm CST on Chicago House FM. (www.chicagohousefm.co.uk)
Camille spends a lot of time in the studio and has released tracks individually and also as Soulmates on Caliber Sounds, Cabbie Hat, Caboose, CHFM and Panhandle.
Camille is also the Head Honcho for label Caliber Sounds, which features some of the best House producers in the business including: Robb Swinga, Ryan Truman, Rescue, Flapjackers, Ignacio Robles, J-Caprice, and many more. (www.calibersounds.com)
Camille is a true musician, her love of all things music make her one not to be missed!
Links:
http://cabbiehatrecordings.com/home.cfm
http://www.juiced-music.com/home.cfm
http://www.calibersounds.com/fr_home.cfm
https://www.facebook.com/hm4peace
https://www.facebook.com/camillesoulmatesstewart
Contact:
House Head Speaks:  Usually I don't feature a DJ this quickly but if you like what you hear, share it with the world.  That was my reaction the moment I hear SoulMates.  Their style of House is as unique as their show on ChicagoHouseFM.com.  You have to check them out and see for yourself.  H2S is proud of this DJ Discovery.  This House Head Has Spoken!!