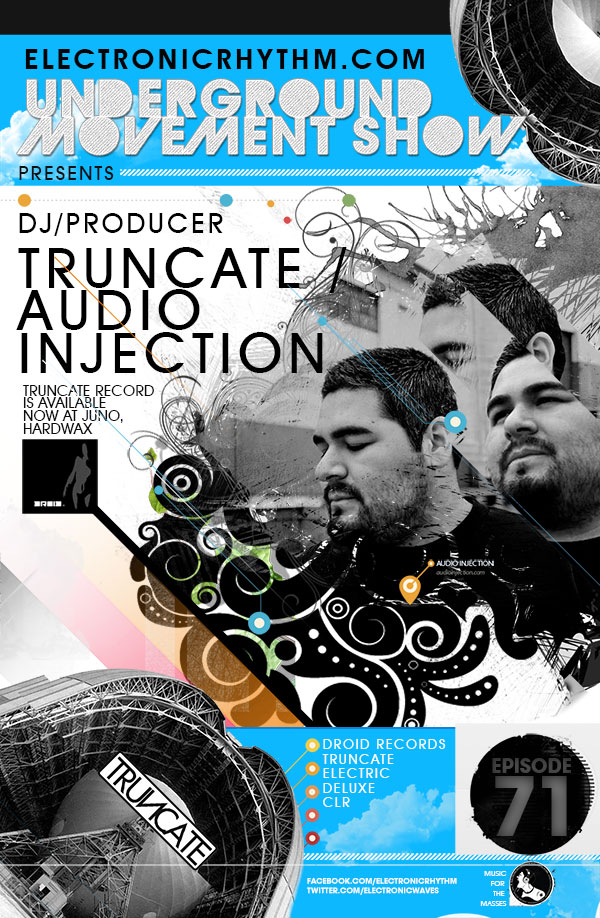 UMS EPISODE 71 – Audio Injection – Truncate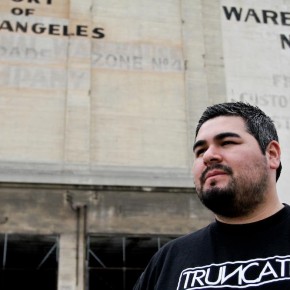 Truncate / Audio Injection
Truncate aka Audio Injection joins the Underground Movement Podcast this week with a live recorded set from his performance in NYC a couple of weeks back. Audio Injection (David Flores) delivers an amazing blend of Techno rhythms which had everyone at the Z Hotel Rooftop jumping and screaming for more. Audio Injection hails from the sunny west coast of California and has appeared several times in the ever popular CLR Podcast as well as in his hometown production team of Droid Behavior.
David joins us for an exclusive interview where we get a surprise appearance from the owner of the Z Hotel as we learn more about Truncate's production methods and much more. Truncate / Audio Injection has produced many tracks which are in constant demand on dancefloors around the world.
Enjoy this great mix and look for more great gigs from Truncate / Audio Injection in your local area.
Truncate aka Audio Injection UMS Episode 71 from ElectronicRhythm.com on Vimeo.
UMS EPISODE 71 Truncate / Audio Injection

DOWNLOAD VIDEO:UMS EPISODE 71 Truncate / Audio Injection
'
DOWNLOAD MP3 SETs [mp3-jplayer tracks="

" width="600px" height="77px" pn="n" mods="y" vol="45″ pos="rel-R" list="y"]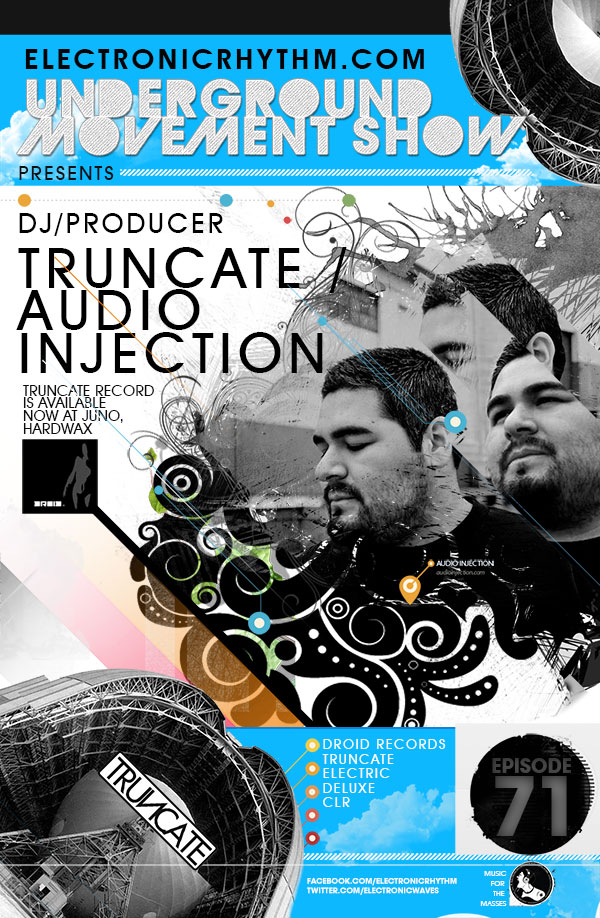 Kyle Geiger and Audio Injection aka Truncate

social connection to Truncate / Audio Injection:
AUDIOINJECTION.COM
FACEBOOK
TWITTER
RESIDENTADVISOR

ABOUT Audio Injection:
David Flores, AKA Audio Injection and Truncate

A native of Los Angeles and resident DJ at that city's popular Droid Behavior parties, Flores has become increasingly prolific over the past few years. As Audio Injection, his tracks and remixes have come out on Droid's label arm, Droid Recordings, along with heavy-hitting international imprints like Electric Deluxe and CLR, and since early 2011 he's been producing deeper strands of techno under the alias Truncate—the label of the same name already has half a dozen records in its catalog.

Since being introduced to electronic music back in the early 90's, Audio Injection has been hooked. At the early age of 15 he started Djing and playing out at local underground events and raves around the Southern California area. You would find him spinning various styles from house, acid, & techno to hardcore techno.

After years of Djing he then decided to learn to produce his own music, which landed him releases on techno labels such as Monoid, Stimulus, & local label Droid Recordings. Since being associated with local event production group Droid Behavior in 2003, you can find him as a resident at the infamous Interface warehouse events as well as a regular producer for Droid Recordings along with Drumcell (Co-Founder of Droid Behavior). He has also played together with Drumcell at Berghain, Berlin in 2010 & 2011 as well as playing gigs in Athens, Hamburg, Stuttgart, Cologne, Wales, and various gigs throughout the U.S. and Mexico.