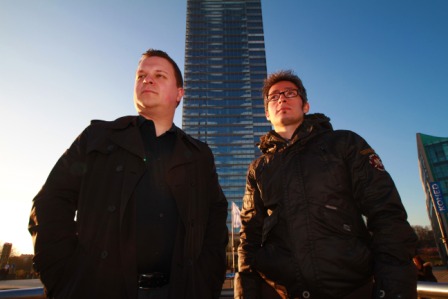 June DJ of the Month: DJ PaKo & Discotizer from "Our House is Disco"
Discotizer and DJ PaKo are 2 DJs based in Cologne, Germany.   They have a great passion for funky Disco and Jackin House music. In 2011, they joined forces to bring this sound back on the dance floor.
DJ PaKo originally was a clubber, who experienced and celebrated the uplift of disco-based, groovy and danceable House Music in the late 90s. When Electro and Minimal began to dominate the German club scene, he switched behind the turntables. In 2007 he starts DJ-ing, playing Classic, Funky and Disco House. He organizes private Disco House parties in bringing the music to the attention of more people in his home town of Cologne. This project is still a success after seven years. DJ PaKo is also resident DJ at radio stations with shows of his own.
About the same time Discotizer started DJ-ing. Bored with the local club scene and many untalented Djs stuck in the same sound he started a blog where he could show his talent and his knowledge of House Music. Soon his blog become more and more popular and people from across the world sent him their feedback.
He DJ at a few venues in Cologne where he could play Lounge and Soulful House. In 2009, he was one of the first DJs in Cologne that pushed the Swing-House and Electro-Swing sound – the locals followed his lead and joined him.
In 2011, he re-entered the music business after a 12 year absence. He started production of Disco, Jackin and Swing House music. The music that keeps people on the floor.
Discotizer and DJ PaKo is part of Cologne's club scene without knowing each other. Their worlds collide in 2011.  They met via social networks and discovered their passion for Disco House and all House Music that has a feel-good vibe and uplifting groove. They decided to combine their resources and created "Our House is Disco" as a radio show to bring their enthusiastic mix of funky, disco, Jackin and Classic House from the 90s to a broader audience.
During the two-hour show, Discotizer and DJ Pako present new releases, classic tunes and almost forgotten diamonds found in their respective archives.
Besides that, Discotizer & DJ PaKo follows their devotion to Funky & Disco House in other projects.  Both are running DJ sites on Facebook and post new sets regularly.
For those who like to listen to their work, visit
http://www.mixcloud.com/OurHouseisDisco/
Or listen to the show live every Sunday 6 – 8 GMT on www.chicagohousefm.co.uk or via iTunes (Electronica ? Radio ? Chicago House FM)
Please use the following links to link from the article to our pages.
https://www.facebook.com/ourhouseisdisco
https://www.facebook.com/pages/Discotizer/113794850425
https://www.facebook.com/pages/DJ-PaKo/167357106653426
House Head Speaks:  The first time I listen to a set on "Our House is Disco", they were playing tracks from some of Chicago Disco House DJs.  DJ PaKo and Discotizer are innovators.  They brought back a genre that was lost for a long time and gave it a House face.  They are DJs I love viewing and listening.  Please check out their show "Our House Disco".  It airs every Sunday from 6-8pm (GMT) at www.chicagohousefm.com.  This House Head Has Spoken!!