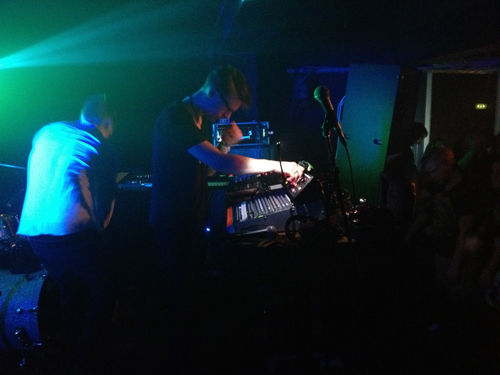 Fufanicious!
Last night, a gale force wind saved my life. Stumbling down Laugevugar, I was blown into the full-armed embrace of an analog renaissance.
I seem to be spending most of my time here at Faktory, and really where else to be when you've got Austrian heavyweight title-holders Elektro Guzzi joining forces with Icelandic mad scientists Captain Fufanu, Oculus, and others.
Reminiscent of a certain legendary 2-piece block-rockin outfit from Manchester (albeit at a much younger stage of their career), the commanders of Captain Fufanu, Kaktus and Gulli, took their devoted fan-base on a floor-shaking tour of their gear – no stinkin' laptop needed.
Followed by the sweaty glory of Elektro Guzzi – guitar. bass. drums. Techno? Yes! Bernhard and crew put the crowd through its paces, raising the temperature to baking level. Never seen anything like it – we'll be putting up our interview with the guys from Elektro Guzzi in the next few days…but in the meantime – we've finally got pics (and video later today as well)!
Stay tuned for more as the weekend keeps rolling at Airwaves, only on ER.
– Diggy
PS: I realize we're on ElectronicRhythm.com, but if you have a soft spot in your glowstick heart for the indie-rockers, I have two words for you. Nelson Can. These girls from Denmark absolutely destroyed Pyski-Barinn. Best rock show of the festival, hands down.
Pics of Elektro Guzzi and Captain Fufanu!