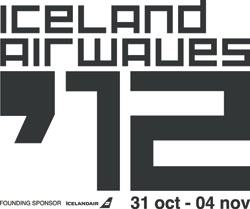 A Sandy chaser, hold the rocks.
Well the gods of Wifi may be kind but the gods of weather are not. All that warmth, heat, light nonsense – forget all that.
Try 70mph winds and rain! I'd just like to extend a huge thanks to Reykjavik for making us New Yorkers feel at home here, nothing like it.
Now on to matters Airwaves related – despite the wind, people are trooping! Massive crowds for trip-hoppers Samaris and electronic indie rockers Phantogram in the Reykjavik Art Museum. Highlights of day 1:
I also had a chance to sit down with the men of Quadruplos last night after their raucous performance at Faktory, and we'll be putting up their interview, as well as those with all other artists next week, once our editors get their grubby little hands on them.
In the meantime, stay tuned for more coverage and some live audio of tonight's festivities – only on ElectronicRhythm.com