A collector of records since the age of 8, this native New Yorker from Ecuadorian descent, has experienced the dance party scene at many distinct levels. At 9 George Ron (aka G-Ron) started going to underground Brooklyn rap jams with friends. With his attention directed towards the "controller of the music," he would start to appreciate how the DJ selected the right songs at the appropriate time throughout the night. Eventually his interest grew learning how to build a crowd into a frenzy then bringing everyone down gently and blissfully.
Presented with the house and freestyle movement at 12, G-Ron started learning the art of mixing. Thirteen would be the age when he would start to give out mixed tapes, play at local parties and hear a response to his developing skills. He would also listen to mixed sets from Club Marz, parties like Egotrip with DJ Roger S. (Sanchez) and Frank Sinister and Friday/Saturday late night hot mixes on the old 103.5 FM.
At 14 he traveled to Asuncion, Paraguay through an exchange student program and embraced some of his latin flavored roots. After returning to NYC @ 16, while hanging with his mentor, DJ T.L.R. and friends, G-Ron made his way into Danceteria's Melting Pot and discovered an amazing break-through, electronic dance music. During this era, he would become a regular at Limelight's Wednesday Disco 2000 with DJ Keoki and Lord Michael's Future Shock with DJ Repete on Fridays. He would also visit clubs and parties like the Shelter's Nasa, Wild Pitch, Sound Factory, Palladium, Sound Factory Bar, Tunnel, Redzone, Octagon, Roxy, The Living World with DJ Junior Vasquez. He would host events of his own with past teammates Sleepwalker Inc. including DJ Soulstar and Enoshite. "Back then, promoters like Alan Sanctuary would throw parties in bars where today legends like Jeff Mills would play slammin' sets, or Moby playing '1000′ at Nasa, made the crowd flip-out!"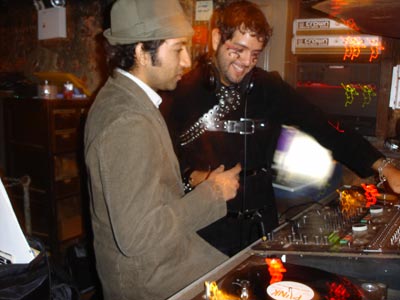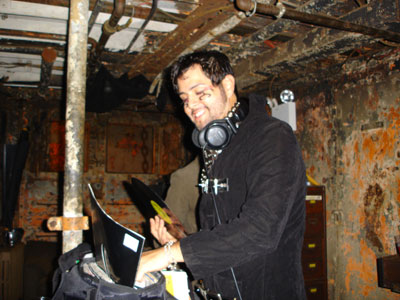 After graduating high school, G-Ron enlisted in the Marines and traveled abroad where he was exposed to the different electronic music scenes around the globe. These years he came in contact with the beauty of Breakbeat down the east coast, the funky sound of Disco-Tech in Italy, the psychedelics in Goa from Israel, the grooves in French House, the big-room intensity of Trance in Spain, and the cosmic progressive funk from the west coast. G-Ron also became influenced by the flow in Acid Jazz, the strong vibrations of Jungle/Drum & Bass, the tranquility in Ambient, the hypnotic journeys in Acid House, the mellow voyages in Trip-Hop, the hard-hitting extremes in Hardcore Techno, and the rhythmic harmony in Afro-beat. These multicultural diverse soundscapes gave him the eclectic tastes he demonstrates in his performances to date.
After his travel commitments, he completed a sound and recording engineering program and got
hired by a major recording studio. At Soundtrack NY Group, he advanced his engineering and
production techniques while helping and assisting on sessions with artists such as Busta Rhymes,
Run-DMC, Christina Aguilera, Snoop Dogg, Petey-Pablo, Mandy Moore, Missy Elliot, Nelly Furtado, Junior Vasquez, Mobb Deep, Staind, Ludacris, Linkin Park, Filp-Mode Squad, Funk Master Flex, Talib Kweli, Just Blaze, Slipknot, Jay-Z, DMX, Angie Stone, Limp Bizkit, Wyclef Jean, Fat Joe, Jellybean Benitez, Ghost Face Killa, Rah Digga, Full Force, Roberta Flack and many others. Then one day, he decides to give up his position at Soundtrack Studios and commence on his own creations. Currently exhibiting his formula for exceptional underground dance poesy and working on his own material, G-Ron strives to enlighten newcomers and old-schoolers with the enchantment of soul driving beats.